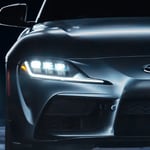 The Toyota GR Supra is one of the most fun sports cars to drive, and it won't cost you as much as competitors with similar engines and trims. The GR Supra is fast and extremely versatile. The handling lets you smoothly take corners while pressing on the gas, and it's a car that you can take on the highway or race track. The acceleration is instant and powerful, whether you are shifting gears to change lanes or take it up a notch.
The 3.0-liter inline engine is a V6 with a twin-scroller supercharger. The base engine delivers 335 horsepower with an eight-speed automatic transmission. In addition, the powertrain is more efficient than any other competitor in the same class. It gets an estimated 31 mpg on the highway. Since it's a rear-wheel-drive sports car, the handling and steering has to be precise, and Toyota finely tunes the engine to be just that.
Ready to experience the latest Toyota Supra design? You can stop by Lithia Toyota of Missoula to take a test drive and see the difference. Our Missoula location is the best spot for new car deals and inventory selection.