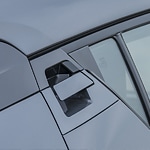 An impressive array of safety features are even more reasons why Toyota C-HR remains one of the most popular subcompact crossover SUVs on the market. At our last Lithia Toyota of Missoula team meeting, we attempted to pinpoint our favorite C-HR safety features. In the end, we couldn't choose, but we selected the following two just to be brief.
Airbags Galore
Toyota takes the safety of you and your family very seriously. That's why C-HR comes standard with 10 airbags. There's an airbag to absorb impact in just about any type of crash. Driver and passenger have front/knee, side, seat-mounted, seat-cushion and side curtain airbags. Backseat passengers have seat-mounted and side-curtain airbags.
Eyes in the Back of Your Head
Traditional rearview mirrors and standard usage are fast becoming obsolete thanks to backup cameras. Toyota C-HR comes with a backup camera that gives you a view of everything behind you at or below windshield level. The camera feed displays on an 8-inch color in-dash screen, helping you back into spaces more safely and confidently.
Swing by our Missoula dealership ASAP for a Toyota C-HR test drive. We can't wait to meet you.