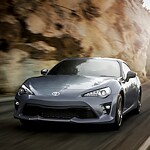 Sports vehicles are rarely praised for their interior features, but here at Lithia Toyota of Missoula, we think that's an oversight. Many sports cars go above and beyond the requirements for their interior designs, especially when they're coming out of Toyota. Now, the Toyota 86 has been released, and it's showing signs of surpassing even other Toyota models in terms of its interior.
The 86 boasts sports seats which are supremely comfortable, and also practical. With a folding rear seat, the 86 does what many other sports cars won't and allows you to maximize cargo space and the like. Plus, the driver's seat is incredibly inviting, especially when you take the equipped audio controls into account. In the Toyota 86, you can keep your eyes on the road and your hands on the wheel and still change the music volume.
To test drive the Toyota 86, come visit us here at Lithia Toyota of Missoula at anytime!